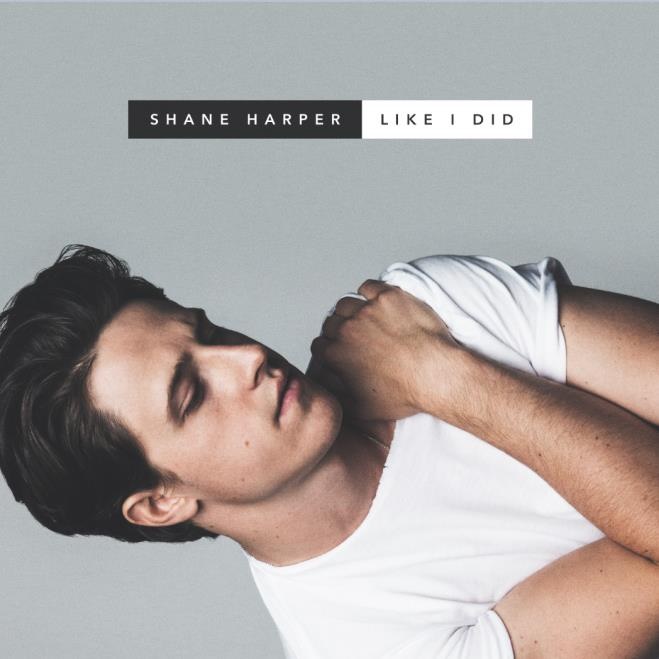 Deep Well/Virgin Records will release Like I Did, a five-song EP from Shane Harper, on May 27. The EP follows the success of Harper's 2014 single "Hold You Up," which had more than four million streams worldwide, and his self-titled debut album, which featured the Top 10 hit "One Step Closer."
Harper will join Jacob Whitesides on "The Lovesick Tour," which kicks off on May 18 at U Street Music Hall in Washington, DC. The run will include a May 21 show at New York City's Webster Hall and a sold-out concert at the legendary Troubadour in West Hollywood, CA on June 18. Tickets and VIP packages are available at http://www.shaneharper.com. See below for itinerary. Harper – who is also an established actor and dancer – will play Robbie in the television movie "Dirty Dancing," which will air on ABC.
On "Like I Did," the title track of his new EP, Harper's soaring vocals and elegant piano work meet with smooth snap-drop beats, evoking the tender emotionality of classic R&B to capture what he describes as "the heartbreak of knowing that the person you once loved is with someone else now." GRAMMY® winner Manny Marroquin mixed the song. Another standout track is"Satellite," an epic piano ballad that's both anthemic and delicately intimate in its meditation on losing and regaining faith. "I wanted to give people something hopeful to sing when they're feeling frustrated and tired," says Harper. He collaborated on the EP with producers Louis Biancaniello and Michael Biancaniello, Jake Scott, Morgan Taylor Reid, Jordan Palmer, Peer Åström and Deep Well Records Founder/CEO Adam Anders, who also served as Executive Producer.
Born in La Jolla, California, Harper was music-obsessed from his earliest years. He got his first guitar at age seven and learned to play mostly by ear. Harper recorded his first batch of songs when he was 15 and, just months after posting them online, he was signed to a development deal with Deep Well Records. Harper, who recently signed a worldwide recording and publishing deal with Deep Well/Virgin Records, is currently at work on a new studio album.
While launching his music career, Harper simultaneously found success as an actor and dancer. His credits include a starring role on MTV's "Happyland" and recurring roles on "Awkward" and "Good Luck Charlie."He wrote "Hold You Up" for the hit independent film "God's Not Dead," which he had the lead role in. Harper performed in the recent FOX musical event "THE PASSION," which was broadcast live from New Orleans. "Hold You Up (Extended Mix)" was one of the exclusive tracks included on the Target edition of the accompanying soundtrack.
Like I Did – Track Listing
1. Like I Did
2. See You Around
3. Anything But Love
4. P.O.W.E.R.
5. Satellite
Shane Harper – North American Tour
5/18 – Washington, DC @ U Street Music Hall
5/20 – Philadelphia, PA @ Coda
5/21 – New York, NY @ Webster Hall
5/25 – Allston, MA @ Brighton Music Hall
5/27 – Pittsburgh, PA @ The Altar Bar
5/28 – Darien Lakes, NY @ Darien Lakes Performing Arts Center
5/29 – Toronto, ON @ Mod Club
5/30 – Cleveland, OH @ Grog Shop
6/1 – Detroit, MI @ The Shelter
6/3 – Indianapolis, IN @ Emerson Theater
6/4 – Milwaukee, WI @ Rave Bar
6/5 – Chicago, IL @ Subterranean
6/7 – Minneapolis, MN @ Studio B
6/8 – Des Moines, IA @ Vaudeville Mews
6/11 – Salt Lake City, UT @ In the Venue
6/14 – Seattle, WA @ Crocodile Café
6/15 – Portland, OR @ Hawthorne Theater
6/17 – San Francisco, CA @ Slim's
6/18 – West Hollywood, CA @ The Troubadour
6/21 – San Diego, CA @ House of Blues
6/24 – Dallas, TX @ House of Blues
6/25 – Houston, TX @ House of Blues
6/28 – Nashville, TN @ 12th & Porter
All dates are supporting Jacob
For more information on SHANE HARPER, contact: visit: http://www.shaneharper.com