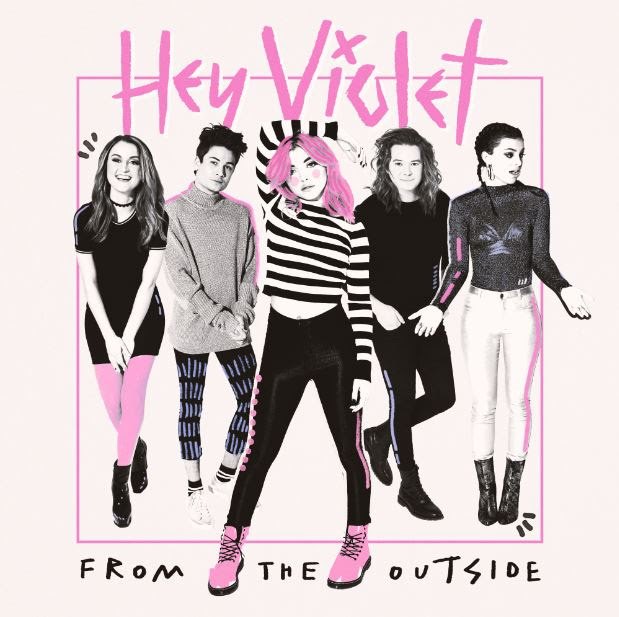 Alt-pop band Hey Violet will release their debut album titled From The Outside on June 16th on Hi or Hey Records/Capitol/Caroline. The album is now available for pre-order from all retailers. Those who pre-order will receive instant downloads of the tracks "Brand New Moves," "Fuqboi," "Guys My Age," and new single, "Break My Heart." Fans who purchase the album at Target will also receive three additional bonus songs and a limited edition vinyl version of the L.P. will be available exclusively at Urban Outfitters. Full track list is below.
"We have been writing and performing music together for over two years now and this album represents us finding our true sound as a band," says frontwoman Rena Lovelis. The title, From The Outside, is a symbol of how we have grown and changed as people and as a band, now we're ready for everyone to hear it."
The band co-wrote all songs on the album which was produced by Julian Bunetta. Earlier this month, Hey Violet released the video for "Break My Heart," watch it HERE. The song was included on Spotify's New Music Friday Playlist and has racked up over five million streams. Idolator says "Break My Heart" is a "monstrous electro-anthem" and declares, the band is "destined to have a massive year." Alternative Press calls the track "irresistible," while Nylon raves, "Hey Violet knows how to write a good pop hook and 'Break My Heart' is a testament to that. This song has spunk." "Break My Heart" is the follow-up to Hey Violet's smash single "Guys My Age," which has more than 40 million combined streams, while the video has over 12 million views. "Guys My Age" was named one of the Best Songs of 2016 by The New York Times, who called it "teen-pop's revenge: an urgent dark song about sexual rebellion" and one of the 20 Best Songs of 2016 by V Magazine. Hey Violet was also nominated for a 2017 iHeart Radio award for Best Underground Alternative Band and been dubbed an Artist Primed For A Breakout in 2017 by Billboard and a 2017 Artist To Watch by The Guardian, PopCrush, and more.
The band recently wrapped up a sold-out North American headline tour and was also featured on the March cover of Alternative Press. Watch their performance of "Guys My Age" on Late Night With Seth Meyers HERE. Hey Violet's Brand New Moves EP debuted as the #1 album on iTunes in the U.S., and U.K. The Los Angeles Times compared their move "from grimy punk to shiny pop" to the Go-Go's, while Galore declared frontwoman Rena Lovelis, "emits an unheard of level of rock-stardom for such a small girl without even singing a single note. But when she does sing, it's as if Courtney Love, Gwen Stefani, and Hayley Williams crashed into each other and made a whole new generation of rock star."
Hey Violet is Rena Lovelis, her sister Nia Lovelis (drums), Miranda Miller (keys, vocals), Casey Moreta (lead guitar) and Iain Shipp (bass).
FROM THE OUTSIDE Track List
Break My Heart
Brand New Moves
Guys My Age
Hoodie
My Consequence
O.D.D.
All We Ever Wanted
Fuqboi
Unholy
Where Have You Been (All My Night)
Like Lovers Do
This Is Me Breaking Up With You
TARGET Bonus Tracks
1. Cannibals
2. These Moments
3. When Will I Learn (Demo)