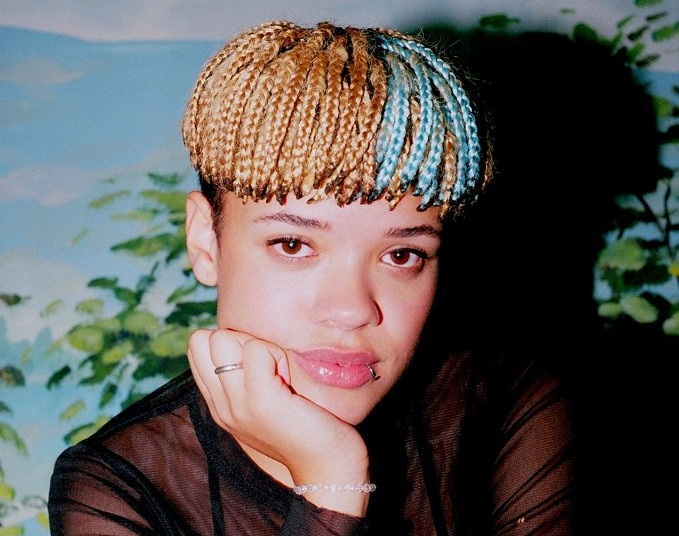 20 YO Bonzai presents her third EP, titled 'Lunacy' and it lives up to the billing. A pop art, fluoro-take on R&B, with elements of jazz, hip hop, dancehall, grime and even Irish folk music; all delivered with a punky rave energy.
If the musical style is an electric soup of influences, it might be to do with her dual Irish/American background. Born in Indiana to a jazz singer mother and raised in Wicklow near Dublin by her drummer father, she moved to London at 17 to start a degree at Tech Music School. She found a job as a backing singer for rising star NAO, whose management introduced her to Mura Masa. The producer was blown away by her talent and released two EPs – 'Royah' in 2015 and 'Sleep Hungry' in March 2016 – on his label Anchor Point. The EPs saw Bonzai gained fans across the board, with Pitchfork giving a glowing review to 'Faze' and Radio 1 awarding two 'Hottest Records' and a playlist.
Now signed to Columbia Records, the next blast from world Bonzai is the 'Lunacy' EP, futuristic music filled with metallic digital clinks, clunks and pops. Meanwhile her songwriting has grown, showing an amazing sophistication both melodically and harmonically. These 5 tracks tell tales of anger, crossed loves and pure teen swagger. On '2B' there is a rhythm and synth topline that sounds like a Cèilidh folk song from 2046. 'Ding Ding Ding' opens with the iPhone voice-note of a rowdy night out in Dublin, before diving into a minimal low-slung rap trunk-rumbler and ending with a coda of F1 cars flying off into the distance. The drum-free closer 'Cruel' modulates through rushy 'reach for the lasers' chords, topped with a flawless future-pop vocal performance.
To promote 'Lunacy', Bonzai will support both Mura Masa and Flume on their upcoming UK/Europe tours, taking in Shepherds Bush Empire, Alexandra Palace and Paris Zenith amongst others. She also plays her own headline at Ministry of Sound, a venue chosen for its ability to host her rowdy 'in the round' performance.
The year is 2016, the controller is Bonzai and this is the state of the art.
Bonzai Live Dates
27.09 Brighton Concorde 2 (supporting Mura Masa)
28.09 Bristol Thekla (supporting Mura Masa)
29.09 London Shepherds Bush (supporting Mura Masa)
01.10 AMP London Printworks
03.10 Nottingham Rescue Rooms (supporting Mura Masa)
04.10 Glasgow School of Art (supporting Mura Masa)
12.10 Ministry Of Sound (London Headline)
29.10 Pitchfork, Paris (Grand Halle De La Villette, 18.55 – 19.40)
04.11 Heineken Music Hall, Amsterdam (supporting Flume)
05.11 Brussels Forest National (supporting Flume)
07.11 Copenhagen Falconer Salen (supporting Flume)
09.11 Berlin Columbiahalle (supporting Flume)
10.11 Poznan MTP2 (supporting Flume)
11.11 Cologne Palladium (supporting Flume)
12.11 Munich Zenith (supporting Flume)
14.11 Strasbourg Zenith (supporting Flume)
16.11 Paris Zenith (supporting Flume)
17.11 London Alexandra Palace (supporting Flume)
18.11 Manchester Warehouse Project